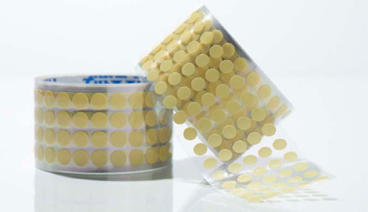 CM Conformal Coating Discs - Silicone Free Discs
Our conformal coating discs are perfectly suited for precision masking needs, particularly in high volume conformal coating applications. These discs are manufactured from our CM300 conformal coating tape and are placed on a clear liner. Custom sizes are available.
Discs must be removed the same day they are applied, due to the thermoset adhesive. If you cannot remove the discs right away, then an alternative is our CCD discs at the bottom of this page.
| | | | |
| --- | --- | --- | --- |
| Part Number | Size | Quantity/Roll | Price/ Roll |
| CM00125 Conformal Coating Discs | 1/8" | 2000 | $18.50 |
| CM00187 Conformal Coating Discs | 3/16" | 2000 | $25.00 |
| CM00250 Conformal Coating Discs | 1/4" | 2000 | $29.00 |
| CM00312 Conformal Coating Discs | 5/16" | 2000 | $32.00 |
| CM00375 Conformal Coating Discs | 3/8" | 2000 | $37.00 |
| CM00437 Conformal Coating Discs | 7/16" | 2000 | $48.00 |
| CM00500 Conformal Coating Discs | 1/2" | 2000 | $59.00 |
| CM00562 Conformal Coating Discs | 9/16" | 2000 | $72.00 |
| CM00625 Conformal Coating Discs | 5/8" | 1000 | $40.00 |
| CM00750 Conformal Coating Discs | 3/4" | 1000 | $49.00 |
CCD CONFORMAL COATING DISCS - SILICONE ADHESIVE
| | | | |
| --- | --- | --- | --- |
| Part Number | Size | Quantity/Roll | Price/ Roll |
| CCD00125 Conformal Coating Discs | 1/8" | 1000 | $42.00 |
| CCD00187 Conformal Coating Discs | 3/16" | 1000 | $44.00 |
| CCD00250 Conformal Coating Discs | 1/4" | 1000 | $46.00 |
| CCD00312 Conformal Coating Discs | 5/16" | 1000 | $51.00 |
| CCD00375 Conformal Coating Discs | 3/8" | 1000 | $63.00 |
| CCD00437 Conformal Coating Discs | 7/16" | 1000 | $72.00 |
| CCD00500 Conformal Coating Discs | 1/2" | 1000 | $76.00 |
| CCD00562 Conformal Coating Discs | 9/16" | 1000 | $82.00 |
| CCD00625 Conformal Coating Discs | 5/8" | 1000 | $86.00 |
| CCD00687 Conformal Coating Discs | 11/16" | 1000 | $89.00 |
| CCD00750 Conformal Coating Discs | 3/4" | 1000 | $91.00 |
| CCD00812 Conformal Coating Discs | 13/16" | 1000 | $100.00 |
| CCD00875 Conformal Coating Discs | 7/8" | 1000 | $107.00 |
| CCD00937 Conformal Coating Discs | 15/16" | 500 | $72.00 |
| CCD001000 Conformal Coating Discs | 1" | 500 | $82.00 |
| CCD001250 Conformal Coating Discs | 1-1/4" | 500 | $102.00 |
| CCD001500 Conformal Coating Discs | 1-1/2" | 500 | $123.00 |
| CCD002000 Conformal Coating Discs | 2" | 250 | $133.00 |